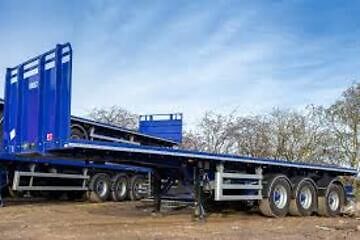 Find Well-Maintained Advanced Trailer Earthmoving Equipment in Dubai, UAE
How can you benefit from Trailer Earthmoving Equipment in Dubai, UAE
The growing construction industry and increased investments towards infrastructure development will continue to drive the demand for earthmoving equipment in Dubai, UAE, and other parts of the Middle East. The market players are focusing on developing technologically-advanced products in order to cater to the increasing customer demands. They are also focusing on enhancing their after-sales services in order to cater to the needs of their customers. In addition, several construction companies are investing huge sums of money in the purchase and maintenance of earthmoving equipment. However, lack of skilled labor and high competition from rental companies are some of the major challenges faced by manufacturers of earthmoving equipment in Dubai, UAE, and other parts of the Middle East. Renting trailer earthmoving equipment at
Big Crane
is the perfect solution when the situation arises that you need rental equipment at short notice. If you suddenly find yourself in a position where you need additional help to complete a project or job, it's simple – just give us a call and we will be more than happy to provide you with the best trailer earthmoving equipment rental service possible.
The benefits of renting a trailer earthmoving equipment are:
Cost effective: Hiring Trailer Earthmoving Equipment is not only cost effective but also very flexible as they can be used in any number of construction projects. This is because you don't need to buy the equipment, and so you save a lot as compared to purchasing them. Also, renting them means that you will always have access to the latest and most modern technology in this industry. -Equipped with the latest technology: When hiring from an equipment rental company, you are assured that you get the best machines and equipment for your job at hand. This is because such companies invest heavily on the latest models of machines so that their clients can enjoy the latest technology. Therefore, your heavy machinery will be able to deliver better results by saving time and costs for your project. -Professional advice: If you are new in this industry, it is important to seek professional help from a reliable company that specializes in
renting earth moving equipment Dubai
has today. Such firms know exactly what kind of machine suits your requirements and which one can deliver the best performance. When you have a construction business, it is important to find the right dealer for a
trailer earthmoving equipment in Dubai
. You cannot buy or rent heavy-duty equipment without the right dealer. There are a few things that you need to consider before you make your purchase. The following are the top considerations to make while looking for trailer earthmoving equipment in Dubai:
Quality and Price
What is the price of these machines? How much will they cost to transport and maintain? You want to make sure that you get a good deal on these machines and that they will last for years without needing major repairs or replacements. It would also be great if you could find an
earthmoving equipment company in Dubai
that offers financing options for those who need it.
Availability
Where can you buy this type of equipment? Are there any reliable dealers near where you live? What about online dealers? It would be great if there were a few different dealers so that you could compare prices and features. The more options, the better as far as finding what you need for your company. We are well known
Rental Transport Companies in Dubai, UAE