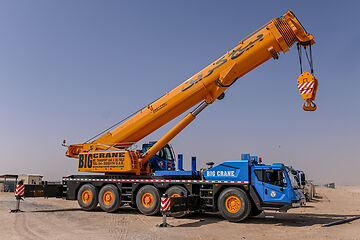 Hire Premier Supplier of Lifting Rental Equipment in Dubai, UAE
Tips on how to get the right Lifting Rental Equipment in Dubai, UAE
Getting The Right Lifting Equipment
Regardless of the type of industrial or construction project, you need to ensure that your employees are safe and able to perform their jobs with the right equipment. This means that you need a reliable lifter and other lifting equipment. Lifting equipment is an essential part of any construction project. It helps you move heavy materials and equipment from one place to another. Therefore, if you do not have the right
Lifting Rental Equipment in Dubai, UAE
, it could result in accidents and damages. That is why you need to get the right equipment for the job. In order to make that decision, there are several factors to consider:
Lifting capacity. How much weight will you be lifting? Different loads are lifted using different types of lifting equipment. You need to consider the weight of your loads as well as how often they need to be lifted. This will help you find out how much power and strength your equipment needs to have in order to lift them without breaking down or causing any accidents or injuries.
Range of motion. How far is the item you wish to lift? Up and down? Or do you have a horizontal or diagonal lift?
Speed. Do you have time to take it slow and steady, or do you need it fast?
Stability. What's the center of gravity? Is it stable enough on its own, or do you need additional support?
Height & reach. How tall is the structure that needs to be lifted? And how far out does the load extend? How will this affect your ability to lift?
Environment. What terrain will the lifting equipment be operating in? Are there any obstacles that might interfere with your lift? What about extreme weather conditions like temperature and humidity levels?
Why Big Crane for Your Lifting Rental Needs?
Big Crane, we pride ourselves on offering top of the line lifting equipment rentals. We understand that you may not need a given piece of equipment long term, so we offer our customers reliable rental solutions for the equipment they need for a short time. If you are in the market for lifting rental equipment in Dubai, UAE, or anywhere else, we are here to help.
Expert Lifting Equipment Hire Services
Heavy Equipment Rental Dubai, UAE eliminates the need for extensive manpower and reduces the amount of time you would use to move goods. They are ideal to move things up and down to higher locations than what could be reached by hand. We pride ourselves on being a specialist provider of lifting equipment for various industries. Our experience doesn't just stop there! We also have expert knowledge of both lifting and manual handling that can be beneficial and used in any situation. If you are unsure of which lifting equipment hire options would be most beneficial to you, we're here to help!