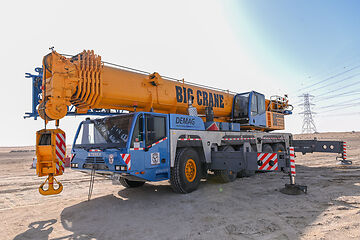 Rental Fleet of Lorry Cranes in Dubai, UAE
Applications of Lorry Cranes in Dubai, UAE
Cranes are the most important and fundamental equipment used in the construction industry. Even though there are many types of cranes, each one of them is designed to serve a particular purpose. Lorry crane is one such type of tool that is specially designed to lift heavy weights from one location to another. They are considered to be an ideal choice for lifting heavy weights from one place to another and can lift heavy loads up to several hundred tons.
Lorry cranes in Dubai, UAE have different classifications and configurations, depending on the job or task that needs to be done. Big Crane offers lorry cranes that have crane parts made of high-quality steel and are designed with safety features and security systems to avoid accidents at work sites.
Lorry cranes provide several advantages over traditional cranes, including:
●       The ability to reach narrow or cramped sites.
●       A higher level of maneuverability compared to traditional cranes.
●       The option of driving them on-site without the need for trailer transportation.
●       Better traffic safety compared to large traditional cranes that require police escorts.
●       Cost-effectiveness as they do not require a separate crane.
Lorry Cranes for Hire
If you have a construction project, then it's quite obvious that you need to hire lorry cranes for your project. The main advantage with this type of crane is its ability to move or transport heavy materials or products easily from one location to another location. Lorry cranes in Dubai, UAE can be used for both commercial and residential purposes.
The most common uses of Lorry Cranes are:
●       Construction work
●       Disaster management
●       Heavy engineering
●       Lifting and moving heavy materials
●       Rescue operations
Quality Lorry Cranes
Book Boom Loaders in Dubai, UAE from a company that has a fleet consisting of the latest models of Trailers, Low Bed Trailers and Lorry Cranes which are fully maintained by highly trained and qualified technicians to ensure the highest quality standards.
Big Crane Lorry Cranes
We at Big Crane are providing Lorry Cranes in Dubai, UAE and a wide range of services from having professional engineers, renting equipment to complete project management. The lorry cranes we offer are of the highest quality with innovative designs and technology. We have been serving various industries across the Middle East for over 20 years and have earned clients' trust by offering world class quality solutions for our products.
Lorry cranes help in loading and unloading of heavy materials from trucks or lorries. There are many different types of Mobile Crane in Dubai, UAE available in the market such as extendable boom crane, knuckle boom crane, rough terrain crane, crawler crane and many more. The type of crane to be used depends on the application it is being used for. Big Crane engineers, draftsmen and support staff can help you identify which type is suitable for your needs.