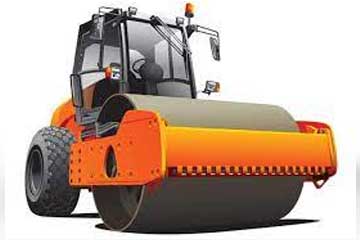 Hire the best Road Rollers in Dubai, UAE at affordable rates
We lease numerous models of road rollers in Dubai and Abu Dhabi, UAE including single drum rollers, double drum compactors, pneumatic smooth tyre and rubber tyred rollers as well as grid rollers. Our Road Rollers are from top manufacturers like Caterpillar,  Bomag, Champion and Dynapac are available with various weight capacities and in various sizes.
High quality road roller heavy equipment in Dubai UAE for Construction works
Rollers are perfect for on-site compaction jobs and can be used on asphalt, soil and gravel. Our range of road rollers come in a variety of sizes starting from single drum vibrating rollers and double drum vibrating rollers. You can also choose from pneumatic tyre rollers or smooth wheeled road rollers.
Features:
●       High strength
●       Robustness
●       Rugged construction
●       Immaculate finish
There are several suppliers and renters of road rollers in Dubai, UAE and with so many different types available, it can be difficult to choose a company that suits your needs best. If you are planning to rent one, here are some things that you should look out for in a company before buying or renting:
Check the rental company's reputation. Always check the experience and reputation of the rental company. If possible, choose a vendor who has been in business for more than 20 years so that you are assured of their reliability and credibility. Also, ask for feedback from previous customers so that you know what to expect from them.
Check their equipment inventory. It is important to check the equipment inventory of the company. It is recommended to choose a company which offers an array of equipment for rent so that you have plenty of options. You may also want to check their current stock because it can be difficult to rent road rollers if they are out of stock or if they do not have the equipment you need.
Next, check the engine of the road rollers in Dubai, UAE. A good engine will have no problem running for long periods without stopping and this should be your first criterion when choosing a company to rent from.
Finally, it is also advisable to ask about any guarantees or warranties that are included with your purchase. Some companies offer warranties and guarantees as standard practice, while others will only offer them if you ask for them.
Renting a road roller in Dubai, UAE is an investment that every business should consider. Whether it's to improve the quality and durability of your internal pathways, or to help you in road construction projects, having a reliable roller at your disposal can be a real game changer.
Here are some of the benefits of renting a road roller in Dubai, UAE:
Big Crane road Shovels in Dubai, UAE are perfect for helping you achieve the high standards of quality that most customers expect from businesses. If you're working on a construction site or landscaping project, this is essential for providing an excellent service. Not only will you get positive feedback about your work, but you'll also generate more leads for future projects.
●       They're versatile. The most obvious reason to invest in a roller is that it will save you from having to hire one every time you need one. This will save you money and ensure that your business has access to the equipment it needs throughout various stages of a project.
●       Convenience. There are no long term commitments with rented equipment. You can simply rent it as and when you need it. This comes in handy if you only have a couple of projects to complete over the year, or you want to try out different pieces of equipment before committing to buying one. Renting also means that your business won't have an expensive piece of machinery sitting in storage throughout the year, rather it is generating revenue by being used on projects.
●       Storage space. One of the most important benefits of renting a road roller is that you can save on storage space. Buying one will require you to have adequate space in your facility to store this large piece of equipment. If you're not planning on using it for some time, you'll still need to maintain it by checking its fluid levels and giving it regular tune-ups. This can take up valuable time and effort that could be spent elsewhere.
●       Maintenance cost. Another benefit you'll get from renting a road roller is the savings from maintenance costs. Road rollers are expensive pieces of equipment that require regular maintenance — especially if they're being used frequently. When you buy one, all these expenses will come out from your pocket.