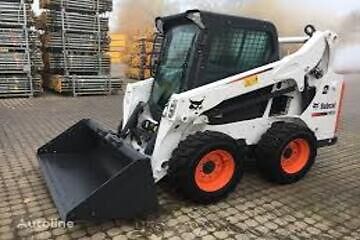 Bob Cats are versatile machines and can easily be configured for different applications by coupling with Bob cat optional attachments. Whatever your job – digging, trenching, breaking or material handling (to name but a few) – Bob cat loaders have the power to get it done efficiently. Under the hood, they have the best-in-class engine to take on tough jobs with powerful performance and high fuel economy.
The features of bob cat we offer include:
* Easy to operate
* Works on any type of ground surface
* Powerful engine performance
* Compact size
When renting Bobcats in Dubai, UAE or any other construction machine in Dubai, Abu Dhabi, Sharjah and all over UAE, we highly recommend you to check the following things before signing your contract:
–  The Bobcat / construction machine must be delivered to you with a full tank of diesel. You are not supposed to pay for this fuel as it is part of the rental agreement.
–  The Bobcat / construction machine must be in perfect working condition.
–  The rental company must have valid insurance for their machines.
–  The rental company must have a valid trade license from the government to do that business in the UAE.
Bobcat Equipment Rental in Dubai, UAE
We are a one-stop solution provider for Lifting Rental Equipment in Dubai, UAE. From bobcat to excavator, and from forklift to mobile crane, we have them all available under one roof. Our fleet of heavy equipment consists of only the best brands in the industry such as Bobcat, Caterpillar, Dynapac, Toyota, and JCB.
Bobcats are highly efficient and very versatile pieces of equipment. They can be used for clearing large areas or for digging holes or trenches. They can also be used for loading and unloading materials, transporting materials and as support equipment during construction projects. Here are a few tips to help you get the most out of your rented Bob cat in Dubai, UAE:
Always perform a pre-check before you start using the Bobcat. This will help ensure that everything is functioning properly and that it is safe to operate.
If the Bobcat has a canopy, make sure that the rear windows are open while you are operating the machine in reverse (this will allow you to see what's behind you).
Ensure that there is enough room between yourself and any other person to allow for safe operation of the machine (make sure that all bystanders remain at least 25 feet away from the Bobcat).
Exercise caution when turning corners – take care not to swing too wide as this could cause damage to property or injure someone nearby (make sure there is enough room between yourself and any other person).
Do not overload buckets on top of one another; this could cause them to tip over or fall off their hinges.
Big Crane Bobcats Rental
Our goal is to keep our Bobcats in Dubai, UAE in excellent condition and reliable for the customer that we lease equipment to. We are very specific about how we maintain and inspect our equipment to ensure it gets back to work and doesn't break down. We want our customers to be pleased with the quality of equipment they receive from us. We are always here to help you with any project.