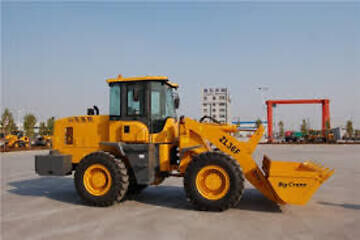 Rent the Best Boom Loaders in Dubai, UAE
How to get quality condition Boom Loaders in Dubai, UAE
A boom loader is an essential piece of equipment for a lot of businesses. It takes the place of a crane and can be used in a variety of different applications. For example, if you have to transport heavy loads on site, then you may need to use a boom loader. You will normally find that they come with many safety features too. As there are so many options available, it's important to take your time and do some research before hiring
boom loaders in Dubai, UAE
. This will help ensure you get the right equipment for your needs.
Power & Performance: Boom Loaders are versatile heavy duty vehicles for construction operations such as loading, digging, drilling and lifting. The high-power engine of the Boom Loaders make it suitable for road maintenance and construction sites. Big Crane Boom Loaders also come with a durable hydraulic cylinder that provides speedy lifting and optimum load handling even in challenging terrain.
Smooth Steering & Easy Controls: Best in its class steering controls offer superior handling and stability when turning. The intuitive boom controls offer easier operation, resulting in higher productivity levels.
Safety Features: High-visibility cabins provide a safe environment to operate in extreme conditions. Boom Loaders also feature a state-of-the-art engine monitoring system that detects any issues immediately.
International Quality Standards: All of our Boom Loaders in Dubai, UAE are manufactured and maintained according to the highest international standards in the industry, ensuring the best performance and reliability of your equipment.
Hire professional Boom Loaders engineers and operators.
Full-service heavy equipment rental, including boom loaders, that offers fast and reliable solutions to all your construction requirements.
Big Crane
Boom loaders in Dubai, UAE are diverse and comply with the highest standards of the industry. Our operators are equipped with state-of-the-art technology to ensure efficiency and reliability. The engineers have complete knowledge about the operations of the machine and hence they will make sure that your work is done with precision and care. As Boom Loaders in Dubai, UAE can lift heavy weight objects, it is important to hire a professional engineer for operating them. Our boom loader rental services are available for both temporary and long term projects at a very competitive rate. All our equipment is transported by our own fleet of trucks for a more effortless service experience. We have an extremely efficient team of staff who are always available to help you with any inquiry regarding our boom loader rental services in Dubai, UAE.
Quality Condition Boom Ladders
The advantages of using a high-quality boom loader are not limited to the speed and ease with which it can do difficult, dirty and dangerous work. The right piece of equipment can easily be the difference between success and failure on the job site. Making sure you have the right piece of equipment could mean all the difference between having a project completed on time, or even at all. Renting
Boom Loaders in Dubai UAE
guarantees equipment that are able to deliver a superior performance, irrespective of the operating conditions. We have been working in these areas for years and are well aware of the problems faced by the workers during operation. When renting
Bobcats in Dubai, UAE
or any other construction machine in Dubai, Abu Dhabi, Sharjah and all over UAE.